Lead Singer/Guitarist Rob Silverbush has been singing in bands since long before he was old enough to buy a drink. A native New Yorker, rock and roll was the soundtrack to his early years and it wasn't long before he was saving up for a microphone. Rob's first band "Turpentine" was a cover band which played venues in NY. At the age of 16, his first pro gig was at the Crazy Horse Café in New Rochelle.
While living in Boston in the 90s, Rob joined "Mad Hatter", an original band that specialized in hard rock. This group played the Boston scene for two years before disbanding. Rob then moved back home to NY, where he's been singing/playing guitar in working bands ever since. He's played multiple NY venues (The Bitter End, Wicked Willy's, Smith's, Tir Na Nog, Bratva Coney Island, BayFest, and many more).

Bass Guitarist Paul Stickney has been playing bass for 3 decades. He's played in bands that opened up for Great White, John Oates (of Hall & Oates) and the Flies. He's also played in bands with Harry Conklin of Jag Panzer, John McDaniel of Titan Force, and Ondrej Pivec (two time Czech grammy winner in the category of jazz), and John Tank of Charles Mingus' big band. Paul's played at many great venues including the Knitting Factory, Rockwood Music Hall, and The Groove. Some of his favorite bass players include Geddy Lee, Steve Harris, Verdine White, and John Taylor.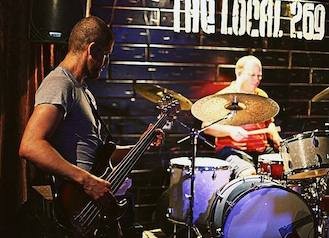 Lead Guitarist Allen Childs began playing guitar at age 16 during a forced break from athletics due to injury. For this lifelong music lover, what began as a hobby quickly progressed into something more. Allen received his first formal training on guitar from renowned NYC guitarist, Jake Ezra Schwartz (The Book of Mormon, Van Davis).
Allen would later attend The Collective School of Music in NYC where he studied with many of New York's most highly sought professional guitarists. Since his time at The Collective, he's been gigging around the city at The Bitter End, Arlene's Grocery, Trash Bar, and other great venues. Having played with bands such as The Medicine Makers and Spinbox, he's also proud to announce that he's hard at work on his first album.